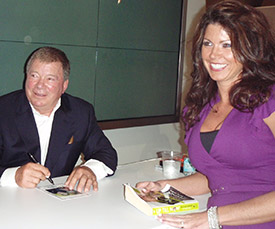 by David J. Chavez

"You know who would be great for our event? William Shatner! My sister met him at a convention once and said he was really nice. I'll bet we can get him. Make it happen."
Is it really that easy? If you've ever tried, you know it's not. When you jump into the task of hiring a celebrity, you quickly find that it's a full-time project.
When hiring a celebrity for your event, you have to work through a long list of considerations:
How much will it cost? Celebrities may be really nice people, but they don't work for free. Do you have a budget?
Who do you know? You may think a personal connection to recent Hall of Fame inductee Frank Thomas of the Chicago White Sox will make your job easy. But if your store grand opening is in Denver … maybe not so much. Likewise, you want to be sure an entertainer is a good fit for your message and promotion.
How do you make contact? Over the Internet? Call an agent? You'll likely have a lot of hoops to jump through. Also, when you initiate direct contact, you'll likely be quoted a fairly high standard fee.
How do you contract? What makes a contract legal? What are your rights and responsibilities?
What's included? Is the appearance a "you get what you get," or can you add special features to the appearance to customize the experience?
Who will "take care of" the celebrity on arrival? Can you assign someone to pick up your celebrity, prep him or her for the appearance, take care of expected and unexpected needs, and ensure the event goes smoothly?
What's your celeb's schedule? You probably already have firm dates in mind. If your chosen celebrity isn't available, you'll have to start this process all over.
If you're the one who's supposed to "make that happen," you may become overwhelmed pretty quickly. That's why Pro Sports MVP Entertainment and Promotions is here.
More than just booking
We are the professional resource you need to take care of all the details for your celebrity appearance. We can handle any type of appearance, from a simple autograph session to endorsements and hospitality at sporting events. We even coordinate special events such as keynote and motivational speakers, corporate incentive and hospitality programs, and fantasy camps and youth clinics.
We'll work with your budget, profile talent that's appropriate for your event and demographic, and help to arrange a truly customized experience for your attendees. We prepare extensively for your celebrity, as well as arrange all travel and logistics. Our experts get the best value for your budget so you can focus on the overall success of the event.
We want to be the resource you turn to for your event planning — every time. That's why we've launched our new blog, The Spotlight. Each week, take a moment and visit for insights about hot trends in events, quick and practical event planning tips, and a peek at some of the great events we have going on.
Do you know how to make your event a standout? Let us provide the answers. Whether your event is next month or next year, contact the experts at Pro Sports MVP online, by email, or by phone at (719) 227-3920.