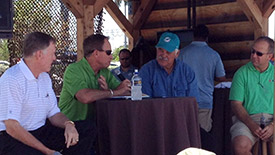 How complicated can an event get before it's really out of hand? Could you handle juggling an event that takes place over multiple days? Multiple presentations? Multiple celebrity appearances?
How about all of the above? When your event crosses into the "too much to handle" zone, it's time to reach out for professional help. Pro Sports MVP has experience handling any size event, from a single afternoon appearance to a full-scale comedy and musical performance for our troops.
A longtime client of ours, a retail sporting goods chain with whom we have worked since 2005, received a request from one of their partners asking for a recommendation for a marketing firm or talent agency that could assist them in implementing sports and celebrity-themed Customer Rewards Events and promotions.
We were privileged and excited to get the call from this new, prospective client to discuss their program, and what Pro Sports MVP could do to assist in bringing the events to fruition.
What made the events particularly challenging was creating a unique and highly customized program. But at Pro Sports MVP, we're accustomed to handling the details, so coordinating a multi-celebrity, multi-date event series with lots of moving parts wasn't a problem.
We worked with our new client to acquire talent for the series of events, which would consist of several components:
A "talk show" hosted by an emcee, featuring celebrity guests discussing their professional athletic careers, experience in sports and the outdoors, and their current interests and projects
A private autograph session and meet-and-greet for VIP customers
A public autograph and photograph session
A book signing and giveaway
A private concert featuring an up-and-coming country singer and songwriter

These special programs took place over two weekends (four days) in South Florida at two separate retail locations. The events included celebrity appearances from the likes of
NFL Hall of Famers Larry Csonka and Bob Griese
MLB Hall of Famer Johnny Bench
Heisman Trophy Winner Gino Torretta
Marine artist and author Guy Harvey
Fishing legend Jimmy Houston
Country musician Sam Hunt

The full program went smoothly and the client was very pleased with the way the event demonstrated its appreciation to its clients.
Whether your event is large and complex like this one or smaller in scope, details are critical, and we're the partner who can handle the job. Call Pro Sports MVP for more information about our top-notch service, and let us tell you how we can help you achieve your event goals.
Phone: 719-227-3920
Email: general@prosportsmvp.com
Contact page: http://www.prosportsmvp.com/contact-us/