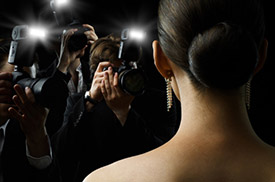 For 20 years, you've seen the iconic "Got Milk?" advertisements, with their smiling celebrities with milk mustaches. The ads have become a pop-culture phenomenon. TV and movie stars, recording artists, athletes, and even animated characters have modeled the signature trademark over the years. But in early March, the time of that legendary milk mustache came to an end. According to Ad Age, the ad firm that created the successful campaign — Goodby, Silverstein & Partners — put an end to an era.
The national milk industry now has a new tagline — "Milk Life" — that it is using to promote its product, invigorate sales, and encourage discussions about milk's nutritional benefits. Described as a new evolution in milk marketing, "Milk Life" is a $60 million multi-year, multi-channel campaign, and it launched March 3.
But wait. Back up a minute. What made "Got Milk?" so successful for so many years? The ads were stunning in their simplicity, and they were ubiquitous. But perhaps their greatest strength was that they always featured celebrities and athletes whose beautiful, healthy faces were ideal canvases for those signature mustaches. They were role models!
This gets to the heart of the power of celebrity in any promotion, and it's why celebrity endorsements have been so central to the international marketing landscape. Famous people bring instant recognition and trust. When someone we trust is associated with a product, we feel an instant kinship, and we're more open to the possibility of checking out that product (and even making a purchase). Celebrities are a brand in and of themselves.
In the age of digital and social media — in which everyone is more engaged and brands can go viral at any moment — these kinds of endorsements are more important than ever. But it's critical to get the right match: You need to find the celebrity whose values align in just the right way with your specific brand. Otherwise, you might send the wrong signals. Or worse, the celebrity's personal brand might overshadow the brand he or she was hired to promote. However, when it's done effectively, a celebrity endorsement can strike gold for a brand, bringing profit that far outweighs the cost of establishing the endorsement.
So, how do you make the right celebrity deal? Choose one who aligns with your current customer base, but also choose one who will align with the customer base you want to have. The name of the game is to appeal not only to your existing customers, but also to new customers who have yet to experience your product. Whether you use one celebrity for both goals or customize two phases of an endorsement plan involving different celebrities, be sure to keep those goals in mind.
Are you ready to get started? Once you have a thorough understanding of your demographic and you've come up with some ideas about celebrities that will appeal to that demographic, you're ready to talk with the pros about making that deal happen. You're on your way toward an endorsement that will catapult your brand or event to new levels of success.