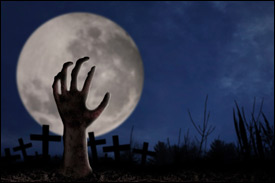 Sometimes, disaster strikes. It can come in many forms: floods, earthquakes, tornadoes … even zombies. So the question is: Are you prepared for the zombie apocalypse? Will you know what to do if the dead start attacking the living?
Fortunately, as part of September's National Preparedness Month, the U.S. Centers for Disease Control (CDC) has a helpful guide: Preparedness 101: Zombie Apocalypse. In it, you can read helpful tips:
First, be sure to have an emergency kit ready. Your kit should contain fresh water, non-perishable food, medications and a First Aid kit, tools and supplies, sanitation and hygiene products, clothing and bedding, and all your important documents.
Second, have an emergency plan. This plan includes where you might go and who you might call if zombies show up on your property and want to eat your brains. It should also specify where to meet should you get separated from your loved ones.
Third, remain calm and know who has your back. "If zombies did start roaming the streets, CDC would conduct an investigation much like any other disease outbreak." The outfit would provide technical assistance to infected areas, prevent further cases, and begin large-scale treatment of patients.
These tips are good advice for any situation — even your next celebrity event!
You think you have it all set up perfectly, all the details are attended to, and you're ready to get started — and then boom! Something unexpected crashes your event. And when it does, it can feel like a zombie apocalypse — you're at your wit's end, fending off terrifying individuals and just trying to survive.
Never fear!
Think of Pro Sports MVP as the equivalent of both your emergency kit AND the CDC: We take steps to prevent disaster, and we have the resources to deal with the unexpected. Our event managers have the proven experience, skills, and resources to handle both the expected and the unexpected at your event.
You might ask, "Have your event managers really had to face disasters in the past?" Yes!
One time, a tornado postponed a celebrity event, throwing all our carefully planned details into disarray. Fortunately, our long-established relationship with the celebrity permitted us to ask him to stay at no additional cost, and he graciously obliged. Only the long association with Pro Sports MVP made the adjustment possible.
Another time, the celebrity's flight was cancelled, putting a major dent in the show schedule. Our event manager quickly arranged a car to drive the celebrity four hours to arrive at the event on time. Our managers are quick-thinking and agile.
What about a "positive" kind of stress? At an event featuring Eric Estrada, turnout was much greater than anticipated. Estrada had agreed to a 2.5-hour appearance but was required for much longer. He graciously remained at the event for nearly 4 hours to connect with all attendees.
While this isn't frequent, it goes to show how Pro Sports MVP's long-standing relationships with many celebrities can really be a benefit to their clients and help with situations in which flexibility may be needed on-site and in a crisis. With resourcefulness and agility, our event managers and the rest of our team can help you navigate difficulties and still come out with a great event. We have your back, even when you think you're facing disaster!
Let us take care of managing your celebrity appearance. After all, you have a whole event to deal with. When you put your trust in us, a few zombies won't even faze you.
Let Pro Sports MVP take the stress out of working with celebrities and performers.
Phone: 719-227-3920
Email: general@prosportsmvp.com
Contact page: http://www.prosportsmvp.com/contact-us/