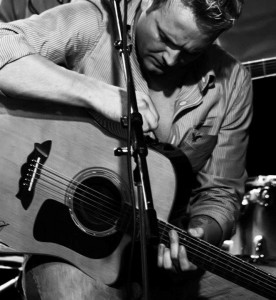 Veterans Day is upon us — time to reflect and express gratitude for those who have chosen a life of service. Veterans often benefit from their experiences, gaining strength and specialized skills that will serve them throughout their lives. But they also often experience trauma in wartime, necessitating long-term healing, both physically and emotionally.
When Stephen Cochran returned home after serving as a Marine in Afghanistan, his back had been broken, and he faced a grueling recovery that was more than physical. Far after his bones healed, he dealt with deeper wounds, and it took some time to figure out how to treat them.
Cochran has been a spokesman for the Department of Veterans Affairs' Office of Research and Development since 2009, and had connections at the top levels of the VA, but it was his country music career that helped him through a dark period of sleeplessness and depression. After joining a veterans group, his inner healing began. Ultimately he formed the Stephen Cochran Project (SCP) and wrote, recorded, and produced the video for his song "Pieces."
Here I sit not knowing where I stand
Two years of therapy and still just half a man
Well, this town moved on without me
Now where do I fit in?
How do you paint a picture back in focus?
If no one understands and you scream for Jesus
And all you've got left are these pieces?
He didn't understand the power of his song until he performed it two years ago at a show for the Semper Fi Fund. "The commandant of the Marine Corps came up to me after I played 'Pieces' and said, 'You have to put that out. You don't understand what a healing song that is and how many people it can help.' "
The song and video reflect Cochran's deep commitment to his fellow veterans. "This isn't a single or song, it's a movement to help people heal," he says. "I've been there and if we can save even one or two, that's one or two we would have lost. I'm on a mission to try to save my brothers and sisters." The video can be seen here:
http://www.youtube.com/watch?v=lFb61y8pMGM&feature=youtu.be
Throughout Stephen's journey into the realm of country music, he has be featured with and endorsed by some of music's most recognizable names including Lee Ann Womack, Craig Morgan, Kenny Chesney, and John Rich. He has also performed at numerous venues including the CMA Music Festival, Jamboree in the Hills and Times Square on New Year's Eve. Staying true to his experiences and his desire to reach out to our servicemen and women with his poignant message, Stephen continues to participate in goodwill military tours and programs throughout the U.S. and abroad.
Here at Pro Sports MVP, we do our best to contribute to the men and women who serve by providing tours and entertainment programs to all branches of the military. It is our honor to thank the people who fought for our freedom — working every day to better our country and the lives of those who have the privilege to live here — and we are equally thankful to their families for their enduring support.
If you're interested in booking Stephen Cochran for an event, Pro Sports MVP can help. Contact us to get all the details lined up.
Phone: 719-227-3920
Email: general@prosportsmvp.com
Contact page
http://www.prosportsmvp.com/contact-us/