By David J. Chavez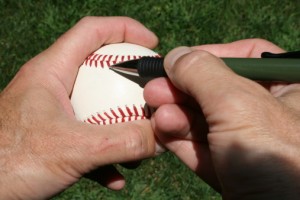 How many ways are there to say thank you to the people and businesses that support you? You can send a note, give them a call, or even send a gift.
But when it's really important — when you really want to let people know your gratitude is sincere — you may want to create a memory.
Pro Sports MVP recently received a special request for just that. A Fortune 100 food manufacturer had planned a very special event for convenience store owners in its New York market who had been top business generators over the past year. This company wanted to provide something meaningful for attendees at the event, "Moments to Memories."
A celebrity appearance seemed an ideal way to personalize the event, but the event was happening in less than a month. Could Pro Sports MVP arrange something within mere weeks?
Short answer: Absolutely.
After an initial email exchange, the event came together quickly. Pro Sports MVP outlined hospitality options with suggested investment levels and profiled a list of local celebrities who would fit its clients' demographics and be engaging in a hospitality setting. Envisioning a three-hour time frame for the event, Pro Sports MVP outlined such possibilities as
a classy "goody bag" with an autographed collectible,
a short highlight video of the celebrity,
a Q&A session, and
a "storytelling" of career highlights and most memorable moments.
From the customized list of New York City area celebrities, the company chose Bucky Dent, the former Major League Baseball player and manager who earned two World Series rings as shortstop for the New York Yankees in 1977 and 1978. Dent, voted the World Series MVP in 1978, would be the ideal sports personality and celebrity for the private event, and the investment of securing him was right in line with the company's budget.
And the company could rest assured that once a price point was secured — and any optional premium services — all logistics and details for Dent's appearance would be seamlessly handled by Pro Sports MVP. This includes all hotel and transportation details, onsite event management of the appearance, and audio/visual assistance.
But Pro Sports MVP's role in the event didn't stop there. The company arranged key after-the-fact details to make the appearance resonate in attendees' minds. As a premium item, Dent autographed major league baseballs for attendees to take as a keepsake. Photographs with Dent were personalized and sent to the guests after they went home. And each photo was encased in a protective sleeve, which ensured each autographed photo would be a timeless collector's item.
The event itself went off without a hitch, and attendees were extremely impressed with the entertaining and likeable Dent, who amiably signed photos and baseballs, and lavished attention on all the guests. But the real takeaway from Dent's appearance is the speed and efficiency with which it all came together. Within 72 hours, Bucky Dent's appearance was arranged. And in the space of less than a month, a program was proposed, price and logistics were hammered out, the concept was approved, and the event was executed. All the bases were covered!
A turnkey solution takes the stress out of your event. Remember: When choosing a provider to coordinate your celebrity appearance, look beyond price. Be sure you're getting the best service and value for your budget.
If you're interested in planning a similar event for your reward or thank-you program, consider the professionals at Pro Sports MVP. The company can talk about options and customizability, and can provide the attention to detail required for a memorable celebrity appearance. Contact the experts at Pro Sports MVP online, by email, or by phone at (719) 227-3920.