by Nicole St. Pierre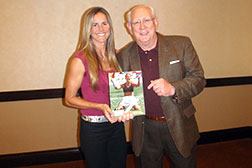 Mother's Day is just around the corner. (It always seems to sneak up on you, doesn't it?) Before you read on, run to the store and get some flowers and a card. Go ahead, we'll wait.
Okay. Now, perhaps you're reflecting on how much your mom has given you over the years. The list is endless, but often the most important thing we got from Mom was wisdom. Eat right, be nice, use good manners, always be punctual — and stick to your budget!
Budget is a vital consideration when you're considering a celebrity appearance. You're all grown up now, but Mom's wisdom has stayed with you. One of your first thoughts is probably, "Will this appearance break my budget?" It's an important question to ask. The athletes and celebrities with whom we work require quite a range of appearance fees — from as low as $3,000 to upwards of $75,000-100,000 — so clearly it's critical to know what you're going to spend and what you'll get for your fee.
Luckily, you have someone looking out for you. At Pro Sports MVP Entertainment & Promotions, we strive to create memorable and enjoyable experiences at a cost that fits our individual clients' budget parameters.
For example, if you're hosting a local event, regional sports or entertainment personalities tend to maximize an investment: They're a natural fit for local attendees, plus they're also more budget-friendly because travel isn't an issue.
Beyond your choice of celebrity, the cost of appearances can vary greatly in other ways. Events can feature different numbers and types of activities, and the time commitment can vary, too. A standard fundraising appearance includes 25 pre-signed items, a 2-3 hour time commitment, a keynote speech (20 minutes to 1 hour, depending on your needs and those of your speaker), a Q&A period, an autograph/photograph session, a meet-and-greet, and media interviews. However, components can be customized to suit your budget.
And there are other ways to manage cost:
Call in the pros — At Pro Sports MVP Entertainment & Promotions, we've established enduring relationships with celebrities, and we work with them frequently. Because they know we'll continue to offer them appearance opportunities, they often give us a lower rate and will do more for their fee than they might for an organization they don't know as well.
Get sponsors to help — Perhaps you're a non-profit, retail, or corporate entity that can partner with a sponsor or vendor to help fund some or all of the cost of a celebrity appearance. The sponsor can benefit from on-site signage, have a presence on autograph cards, receive a mention in the celebrity's speech, or receive other benefits specific to your event or program.
Negotiate the celebrity's fee — If a quoted fee doesn't fit your budget, feel free to make a counter-offer. The celebrity might also be open to reducing his or her appearance time or responsibilities in exchange for a reduced fee.
Customization is key when considering your budget for a celebrity appearance. At Pro Sports MVP Entertainment & Promotions, we can work with you to coordinate the right event for your financial investment. And you'll be heeding Mom's age-old advice. Make her proud!
Need expert help with your celebrity booking? Contact Pro Sports MVP at general@prosportsmvp.com, 719-227-3920, or on our website.