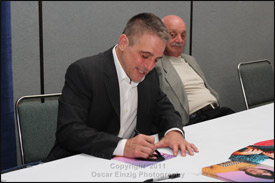 Are you enjoying your summer? Getting out and experiencing local community events? Perhaps, as a business, you're even taking part in some of those events, connecting with potential customers and getting the word out about your products. Live events are common during the summer months, when the weather is warm and everyone wants to be outside.
From fairs to sporting events to festivals, people love to engage with their community, and businesses or organizations are no different. It's time to get active!
One terrific way to increase the appeal of and attendance at an event is to schedule and promote a celebrity appearance. TV stars are an especially effective draw because they're familiar and highly popular across generations.
Pro Sports MVP not only deals with sports personalities but also has longstanding relationships with many well-known and loved TV stars:
Tony Danza (Taxi, Who's the Boss?)
David Hasselhoff (Baywatch)
William Shatner (Star Trek, T.J. Hooker, Boston Legal)
Jim Belushi (According to Jim)
Florence Henderson (The Brady Bunch)
Kelly Carlson (Nip/Tuck)
DeAnna Pappas (The Bachelorette)
Kevin Nealon (SNL, Weeds)
Eric Estrada (CHiPs)
Jamie Farr (M*A*S*H)
TV stars' appeal extends to many types of events. For example, a minor league baseball club recently enlisted the help of former TV star Dennis Haskins — known for his role as Principal Belding in the sitcom Saved by the Bell — for a "90s Night" themed event at the park. The appearance created a fun, nostalgic atmosphere and made the evening special for the families in attendance.
Pro Sports MVP managed every aspect of the appearance. We organized pre-marketing, including radio interviews with the star, to generate excitement. We arranged for Haskins to pre-sign memorabilia for VIPs and sponsors, and then put together a private one-hour reception for season ticket holders. Haskins threw out the first pitch at the game and received a rousing reception from the crowd. He was interviewed during the game by the play-by-play team in the broadcast booth, and for the final two hours of the game, he was available for autograph signing for the general public (up to two autographs per person).
Pro Sports MVP's coordination with the team's special event coordinator created a smooth focal point for the 90s TV theme night.
Do you have a theme night coming up for a summer event? Our successful night with Haskins is just one example of how we can help you work with a beloved TV star to create a terrific, memorable event. Call us today!
Phone: 719-227-3920
Email: general@prosportsmvp.com
Contact page
http://www.prosportsmvp.com/contact-us/