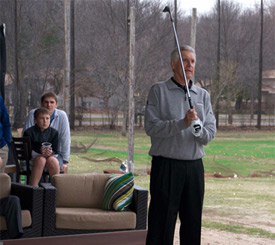 by David J. Chavez
Engaging visitors at a trade show can be like nailing Jell-O to a wall. Most of them either walk by the booth with a polite smile, or they horde your swag without so much as a glance. How do you capture their attention for an actual conversation?
As you know, a celebrity appearance can drastically improve customer interest and interaction at your event. Celebrities capture attention and are magnets for curious bystanders. Now imagine how much more memorable that celebrity appearance would be if it were more than "just an appearance." Suppose it wasn't just a matter of attendees watching a celebrity speak or perform, but rather an opportunity for people to personally interact with that celebrity.
Hands-on: A proven brain boost
A bevy of research has revealed that physical interaction reinforces memory. For example, Psychological Science, a journal of the Association for Psychological Science, showed that taking notes by hand is better for remembering conceptual information over the long term than typing the same information on a laptop.
Retailers have integrated tactile experiences into their retail environments for years, setting up in-store displays to allow people to touch and use items before they make a purchase. One smartphone retailer touts its "smart stores," where consumers try various devices before buying. This approach associates a physical experience with the brand and creates a more positive connection and stronger memory.
How about adapting these ideas to your convention strategy? At the International Builders Show (IBS), Owens Corning realized terrific success by inviting attendees to help paint a wall mural. Participants came in droves, and they didn't just cruise by; they stayed an average of 15 minutes, learning about the brand! In the end, Owens Corning tripled the number of visitors to its booth.
Put attendees in touch with your celebrity
How can you apply this notion and these examples to your own event? Well, once you find the right celebrity — someone who is open to closer interaction with attendees — you can arrange a setting at your booth or at an event venue where visitors can interact with the celebrity. For example, let's say your event has a health and fitness theme. You can set up a pitching booth and let attendees play catch with a celebrity baseball star such as
Troy Tulowitzki (Colorado Rockies)
Giancarlo Stanton (Florida Marlins)
Tim Lincecum (San Francisco Giants)
Manny Machado (Baltimore Orioles)
Brandon Phillips (Cincinnati Reds)
Your attendees will have a blast, spend more time at your event, and remember the experience.
And don't forget to allow for creativity! When attendees feel that their experience with a celebrity is unique or customized, they'll enjoy the richest connection with your brand.
We can make it all happen! Let Pro Sports MVP find the celebrity who will bring you that hands-on experience.