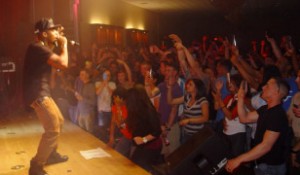 Memorial Day was this week, offering us a time to remember those who gave their lives for our country — and also an opportunity to give thanks to those who serve us every day. At Pro Sports MVP Entertainment & Promotions, we're proud to have been hired to produce a special concert series entitled "For the Leathernecks III Comedy & Entertainment Tour," which was created by the Marine Corps Single Marine Program to recognize single Marines.
The "For the Leathernecks III Comedy & Entertainment Tour" was created for the single Marines and visits 27 locations throughout the world. It's an interactive variety show that lets our heroes take a break from the stress of duty and build unit camaraderie, laugh, have fun, and feel appreciated by the Marine Corps, which they of course are. Since its launch in 2011, the "For the Leathernecks III Comedy & Entertainment Tour" has entertained thousands of Marines. Tour performers include entertainment stars, with a particular focus on comedy and music.
We are proud to have received many thank-yous and shout-outs from some of the Single Marine coordinators:
"I can honestly say that your production team is second to none."
"Communication was absolutely outstanding!"
"Conference calls were timely and sufficient, and Pro Sports MVP was consistently available at any time to answer any question."
"The Pro Sports MVP crew was very professional, on point with every detail (big or small), and extremely easy to work with."
This year's show schedule included stops at Marine installations such as Camp Pendleton, Camp Lejeune, Twentynine Palms, Kaneohe Bay, and Cherry Point, as well as seven shows at bases in Japan and Korea.
Performers this year included such marquee names as
comedians Mike Epps, Tom Green, and Jay Mohr,
music acts such as B.O.B., Keri Hilson, and Drowning Pool, and
internationally acclaimed dance group Purrfect Angelz.
Pro Sports MVP Entertainment & Promotions feels humbled and fortunate to be involved with producing such an impactful series of shows. For our part, we provide all pre-planning logistics, such as preparing celebrities, planning for audience participation, structuring and scripting the show, taking care of travel arrangement for the cast and crew, setting up the AV experience including lighting and sound, and arranging after-show meet and greets between performers and Marines.
This is what we're best at and take extreme pride in: providing high-quality, professional events, and taking care of the details. We treat every event as special for our clients. In this particular case, the audience was special indeed.
See clips from the For the Leathernecks III Comedy & Entertainment Tour in this video.