by David J. Chavez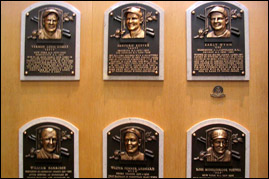 It's May, and your company is suffering from spring fever. Sales figures are down, and your boss wants them to go back up. But all your sales team can talk about is baseball.
How about a new kind of sales incentive that will be a memory of a lifetime and at the same time increase sales? Send your team to the Field of Dreams!
Help your team get back in the swing
Incentive programs can be powerful motivators. But what makes an effective program? Design a program that
everyone has a real shot at,
allows for more than one winner,
incorporates both sales executives and top customers, and
offers a reward that will motivate the team to bend over backwards to win.
Developing an incentive program that accomplishes those goals might be easier than you think. First, change things up a bit: Don't just base your contest on revenue, but consider measuring other outcomes. Do you want the team to
discover new clients?
come up with more referrals?
add new accounts?
bring new opportunities to the pipeline?
Next, create a reward that's truly memorable.
Turn daydreams into an unforgettable experience
Why not incentivize your team by making their sports fantasies come true? At Pro Sports MVP Entertainment & Promotions, we offer a variety of sports fantasy customer experience packages. One of the premier programs is the Field of Dreams Experience. Imagine offering an all-expense-paid, week-long trip to Cooperstown, New York, home of the Baseball Hall of Fame.
On arrival, your all-stars are greeted by Hall of Famers and MLB All-Stars. Guests get the thrill of touring the Baseball Hall of Fame and participating in a baseball fantasy camp at nearby Doubleday field hosted by a baseball legend.
When guests return to their rooms, they find signed memorabilia, official Hall of Fame merchandise, and customized jerseys to ready themselves for a fantasy camp the following morning. The interactive fantasy camp — hosted by baseball legends such as Frank Thomas, Eric Davis, Brett Saberhagen, and Andre Dawson — features clinics, skills drills, and a fun-filled baseball game during which attendees have the chance to play with and against Hall of Famers and All-Stars they grew up with. A competitive golf outing will also be a part of the fantasy, held at the renowned Leatherstocking Golf Course.
This trip-of-a-lifetime offers many attractions:
It's not the kind of thing people normally buy for themselves
It's fun, casual, and doesn't require participants to be athletes
It gives participants the chance to talk, play, and recreate with a sports idol — truly a fantasy!
There are sports camps available for all kinds of fantasy sports: baseball, football, basketball, tennis, hockey, golf, and even NASCAR driving. Camps can be set up just for your team, or you can choose to reward both sales people and clients to create a stronger bond with your top customers.
Pro Sports MVP has longstanding relationships to hundreds of athletes for events like these. Contact us today at general@prosportsmvp.com, 719-227-3920, or on our website.