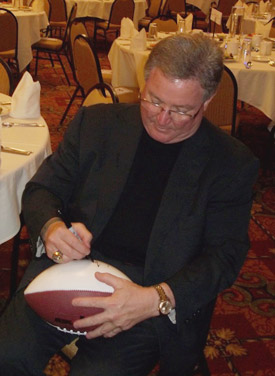 What if you've dreamed about featuring a celebrity speaker or appearance at an upcoming event, but you're working with the limited funds of a non-profit organization? At Pro Sports MVP, we understand that charitable and cause-driven organizations are pivotal to communities across the nation, and rely considerably on local donations and fundraising to finance their operations. We also know that their budgets are, by nature, slender.
At Pro Sports MVP, we have familiar, long-standing relationships with the speakers and celebrities we work with and as such, are often aware of the causes that are close to their hearts. And when our non-profit clients are in need of a speaker or are looking to bring excitement to their event with a celebrity appearance, we know how to align their goals and budgets with the right person — a celebrity with passion for the campaign, who will likely make concessions with fee requirements AND go above and beyond for our client and their cause.
We have had an integral role in helping many non-profit organizations secure speakers, celebrities, and entertainers for speaking engagements, appearances, and performances. Whether the event is a gala for a global human rights organization or the opening of a local community center, it is our aim to keep costs as reasonable as possible so that the maximum amount of funds raised are allocated toward those in need.
Obviously, celebrities can add special appeal for the attendees and sponsors of fundraising events, and their involvement can have a direct and positive effect on contributions. One example of a celebrity making an event successful for a non-profit organization was Terry Bowden's recent speaking engagement in support of the Boy Scouts of America. The event was held in West Virginia, where Bowden grew up and was a Boy Scout himself!
Coach Bowden's presence was a significant draw for the event, bringing more than 300 attendees to the function. He signed footballs, which were presented to event sponsors, and participated in a press conference and a VIP preeception before heading to the main event — the fundraising banquet. Coach Bowden delivered a moving and memorable keynote address, during which he touted the exceptionally positive effect the BSA has on young men. He made an impassioned appeal to the attendees to give as much as they could to the community's youth, and his words certainly had a direct impact on the much-needed funds raised for the council.
Speakers and personalities like Coach Bowden are professional and generous to organizations they believe in; they can add tremendous value to a special event or fundraiser, increase visibility, enrich the experience, and most importantly, bring in more attendees and more proceeds for the organization and its programs. So don't let your non-profit status deter you from at least looking into the possibility of a celebrity appearance at your next event. Contact Pro Sports MVP today for more information.
Pro Sports MVP has connections to hundreds of athletes and celebrities. Which one would be great to have associated with your campaign? Contact us and find out.
Phone: 719-227-3920
Email: general@prosportsmvp.com
Contact page: http://www.prosportsmvp.com/contact-us/