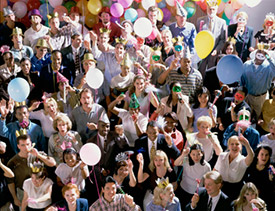 A large event can be daunting. It can loom over you like a mountain peak that you need to summit. You know that it will require months of preparation, and you know that it will test your skill and fortitude. It will demand unprecedented coordination, both in manpower and in scheduling. But despite the unique challenges that a large event brings to the table, it can also bring significant reward and reach.
Sometimes you just have to host a great event for a big crowd. Fortunately, Pro Sports MVP is here to make things easier for you.
We recently helped coordinate a member-appreciation affair for a national real estate association in Chicago for one of Pro Sports MVP's longest-standing clients. The event was held at the Chicago White Sox's ballpark, where 1,200 attendees — including association members and VIPs — would enjoy a day of baseball and team-building. The company envisioned this special event as a way to thank its members, from top to bottom, for their support.
Make it memorable with one of the greats
One of the early requests was that the event be hosted by a baseball legend. Pro Sports helped the company enlist Brooks Robinson — the all-time great Baltimore Orioles third baseman who was so well loved that when he retired, they retired his number, too! Robinson and Pro Sports have enjoyed a 25-year relationship providing celebrity-athlete appearances. This history helped us coordinate with Brooks and put all the pieces together; arranging autographed photos, baseballs, cards, and other memorabilia; booking flights, hotels, and ground transport; scheduling appearances during the event; and preparing him with all necessary background information about the real estate organization, its members, and its goals.
On the day of the event, Robinson gamely pre-signed items, then attended a private party in a hotel suite for an hour, shaking hands with top executives, reminiscing with senior staff, and signing autographs. This was a great opportunity for the VIPs to enjoy one-on-one time with a baseball legend.
Afterward, Robinson headed to a private section of the ballpark to spend another 90 minutes interacting with the 1,200 members who were guests of the association, handing out pre-signed photos and engaging in individual conversations. Everyone enjoyed catered food and the White Sox's free jersey night! Brooks was a gracious and engaging host, and helped provide a memorable occasion on a big night. He made the personal connection the real estate association wanted in order to show appreciation for its valuable members.
Big numbers don't have to be intimidating
Do you have a large event in your future? Regardless of the size, Pro Sports MVP can deliver the personal touch. We handle all the logistics that could potentially make a large event a nightmare. We take care of everything, from flights to transportation to hotels, and from celebrity signing to scheduling to memorabilia. We prepare all aspects of the appearance, so that there are no surprises on the big day — and that includes preparing the celebrity! We coach him or her with all the information you require, easing minds on all sides so that everyone can be relaxed and ready for a long day.
With the right management, even a large event can be personal and memorable!
Make your next event shine! Contact Pro Sports MVP today and book the celebrity who will thrill your attendees.
Phone: 719-227-3920
Email: general@prosportsmvp.com
Contact page: http://www.prosportsmvp.com/contact-us/