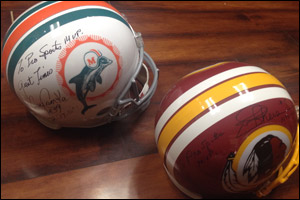 by David J. Chavez
Think about the last conference or event you attended. What was in the swag bag? You don't remember, do you?
If you're a veteran of conferences and trade shows, you're familiar with the swag bag that attendees receive at the registration tables. You sign in, you get your name tag, and then you're rewarded with a bag full of goodies. It's an exciting moment, marking the beginning of the event experience. But all too often, the swag bag is filled with uninspiring junk.
The world is filled with bad swag — unmemorable toys and worthless trinkets — and you probably throw the bulk of it away once you get a chance to examine it. What makes a bad piece of swag? It can be too common, too old-school, too cheap. It can be too bland, too small, or too big. From boring company logo pens or keychains to ubiquitous USB flash drives to outdated, yawn-inducing paperweights, bad swag can be depressing and a waste of money.
So, what constitutes good swag? What kinds of items will attendees want to actually keep beyond the event? That's the challenge of today's event coordinator: Come up with a memorable memento or keepsake for the goodie bag.
Well, you're in luck! Here at Pro Sports MVP Entertainment & Promotions, we know good swag. After all, we often provide event collateral such as customized autograph cards, photographs, baseballs, footballs, helmets, and more.
Here are some ideas for providing your event attendees with excellent swag.
Get personalized — If you've booked a celebrity at your event, take advantage of the star power and create some personalized items. Including an attendee's name on a piece of swag goes a long way toward making that item a keepsake, and a celebrity autograph not only increases the value of the item, but also makes the event extra memorable.
Make it event-appropriate — If the event has a sports theme, be sure to choose a sports item. If your celebrity is in the movies, make the swag movieelated. Use the celebrity's photo and/or quotes on a T-shirt or other gift. Also, be sure to appeal to the attendees' common interests, and keep closely to the purpose of the event.
Stick to the story — Can you create a compelling story around your swag? People value items that have a strong connection with an experience, so focus on strongly connecting your gift items with your event. Personalize the item around your event's theme or your company or create a story that delivers your primary message. Give your swag a life beyond the bag that contains it, and everyone will want it.
Try the VIP treatment — If specially personalized swag for every attendee isn't in your budget, consider giving extra special gifts to select attendees, or even as a random surprise. Autographed photos or mementos will be particularly coveted if they're rare. They'll be shown around and talked about, and those who aren't lucky enough to get one will pay for the privilege.
Swag remains a terrific way to get your message into the heads of event attendees and get conversations started. Don't let this opportunity get tossed into the trash. Think about what you want your event to accomplish, and come up with swag items that communicate that.
Pro Sports MVP can help! Contact us with your swag questions and any questions about your next event.
Phone: 719-227-3920
Email: general@prosportsmvp.com
Website: Contact