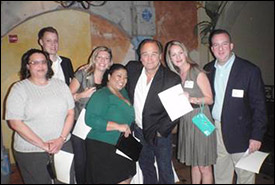 Trade shows can be a rewarding aspect of your business … but they can also be the bane of your existence. They're essential for getting face-to-face with your customers and networking with others in the industry. And yet they can be stressful, overpopulated, and loud. You have to compete with large numbers of other exhibitors who are doing their best to scream their message louder than yours. How can you be expected to capture the attention of attendees — and communicate a valuable message — in such a chaotic environment?
If you've been to a trade show recently, you know how exhibitors have been ratcheting up their efforts to attract attendees to their booths. More akin to a circus environment than ever before, the modern trade show is bursting with entertainment, performance art, tests of skill, and games of chance.
It's time to jump in! But how can you set yourself apart? How can you stand out from the rest? You don't want to be mumbling about product differentiators while everyone else is wowing the audience. Consider these ideas for pumping up the excitement levels:
Music — Consider getting the audience into the act, highlighting the talents of a well-known musical act for a private hospitality event or a professional singer who can entice attendees to perform with him or her in a karaoke or dance contest at your booth. Incorporate words or lyrics that are central to your product message, and you might even end up with attendees unable to stop humming your impromptu company theme song.
Comedy — Think about hiring a professional comedian to talk about your product in a humorous, engaging way, involving the audience and luring potential customers through the power of laughter.
Sport — Many of today's exhibitors showcase a sports celebrity and use a skill demonstration, participatory game or challenge, or branded autographed photo opportunity to engage customers. Whether it's darts or billiards or mini-golf, attendees love to get involved and try their skill — especially if there's an opportunity to win company-branded merchandise.
These kinds of entertainment share a common theme: Rather than simply try to lure attendees with empty gags, they involve your product pitch in the presentation. They inform as much as they entertain.
So where do you start? Pro Sports MVP can help with the plan and the details.
Start early — If you plan to hire a sports personality, musical act, comedian, or other performer, remember to give him or her plenty of time to come on board, understand your messaging needs, and prepare for the event.
Mind the details — Designate a team member to oversee the entertainment aspect of the event and manage the details: scripting, timing, blocking, and coaching the performer.
Promote it — Market the performer or celebrity's appearance long before the show through your usual marketing and press channels, and also use social media such as Twitter and Facebook during the show to hype the appearance.
But most important of all, don't forget to call in the professionals. Pro Sports MVP is truly a full-service agency that will take the time to understand your message and goals, then take an active role in orchestrating the best performance possible.
When you work with Pro Sports MVP, your fee covers all costs, including coaching and preparation of your celebrity's performance. Contact us today!