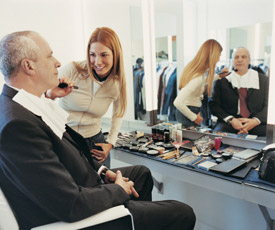 So you're considering a celebrity appearance for a forthcoming event. You understand all the potential benefits — increased attention, an attendance boost, improved brand recognition, a memorable and positive experience — and the prospect is incredibly exciting.
But you've also heard all those stories about high-maintenance celebrities. You don't have the time or patience to be a "caretaker" to a star. Right?
Many companies shy away from a potentially fantastic celebrity appearance because they've heard or read stories about celebrities who have over-the-top or ridiculous requirements for their appearance and their dressing room. For example, rumor has it that these celebrities demand the following:
A Grammy-winning rapper needs a barber's chair and a lot of booze.
A bubbly Pop star insists that "ABSOLUTELY NO CARNATIONS" make their way to her dressing room.
A well-known singer requires only the "best quality" red wine, as well as exactly six metal teaspoons in her dressing room.
A megastar needs blue or black drapes layered with "icy-blue chiffon."
An R&B icon demands a precisely 78-degree dressing room, "heavily seasoned" chicken legs, and rose-scented candles.
An American rock band once demanded that all the brown M&Ms be removed from the group's candy bowl.
A musician and songwriter won't allow fur, leather, or meat in his dressing room.
A comedic actor demands an electric three-wheel mobility scooter, a flight of stairs on wheels, and (of course) a rainbow on wheels.
Fortunately, if you work with a truly professional agency like Pro Sports MVP, you can be free to plan your event while we take care of the celebrity.  We can worry about fulfilling their rider requirements and any special requests or needs that they may have — that's what we do, and what we're good at!
Remember that Pro Sports MVP and its employees have developed long-term, well-established relationships with celebrities and their teams, which often include agents, publicists, and managers.  Through our extensive network, and over our many years in this business, we have been privy to information that isn't accessible to most; this has allowed us to learn about celebrities and their reputations for being prompt, friendly, and accommodating — or on the other hand, habitually irresponsible, unapproachable, and difficult.  Armed with this "insider information", we are confident we can provide sound recommendations for celebrities who are dependable and gracious.
While we don't necessarily make a habit of rolling out a figurative red carpet, we take great care to ensure that the celebrity's experience is positive, enjoyable and seamless — from booking, to arrival, to preparation; through the event, and after wrap up.  And when we treat them right, they do a great job for us — and most importantly, they do a great job for you.
Pro Sports MVP can help you with any celebrity appearance you might be planning . Have a great event without any added stress. Contact us today!
Phone: 719-227-3920
Email: general@prosportsmvp.com
Contact page
http://www.prosportsmvp.com/contact-us/