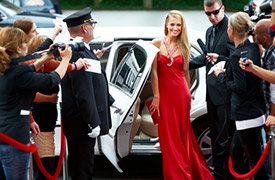 You've made the momentous decision to hire a celebrity for your next event. Congratulations! The experience will be all the better for it!
When you work with a celebrity, you're working with a professional, independent contractor. But this person still needs special attention — specifically, the attention of someone who can devote the time and energy necessary to manage all the details of their appearance. Your contract is a short-term engagement, and the celebrity may be involved in numerous events, so it is critical that their time with you goes as smoothly as possible.
Examples of details that you might not consider (or have the time to deal with personally!) are:
Scheduling
Preparation/pre-event materials and planning
Arranging plane tickets or other travel
Securing car/ground transport
Arranging accommodations
Acquiring and setting up technology
Timing the appearance at the event
Managing multiple activities such as performance, autographs, and VIP meetings
Wrapping up the appearance and debriefing the celebrity
Aside from these more obvious tasks, the event manager should also monitor all activities to ensure the satisfaction of all participants and take care of any problems that arise. He or she should inspect the event facility to ensure that all requirements and contingencies are accounted for. To plan the scope and format of activities, the manager should coordinate with all involved parties by:
calling the venue ahead of time and speaking at length about the event
encouraging the management to communicate with the celebrity so that he or she can learn a little about the venue's history or unique attributes
educating the celebrity about the company or event, to bring one more level of customization to the experience
At Pro Sports MVP, our event managers are skilled professionals who will ensure that every detail is correct. Each of our event managers has years of experience acting as a liaison to celebrities. They know what to expect — no walking on eggshells, no out-of-hand awkward situations, no over-ambitious customers getting out of control. Everything is prepared on-site, in advance, with utmost professionalism.
Our event managers always remember that YOU are the client, and they maintain a laser focus on your needs and objectives. We always try to exceed expectations. At Pro Sports MVP, we're not merely an assembly line — if anyone walks away from an event unhappy, we've failed.
Remember that Pro Sports MVP services are all-inclusive. One price covers everything —so you can keep your focus on your event. Contact us to get all the details lined up for a star appearance at your next event.